The Sheila McKechnie Foundation (SMK) celebrates the work of campaigns and campaigners across the UK with the SMK National Campaigner Awards.
The SMK was set up 15 years ago to honour and preserve the memory of legendary campaigner Shelia McKechnie.
Nominations for the 2020 Awards are now open in ten award categories:
Best Digital Campaign
Best Consumer Campaign
Best Coalition
Best Use of Law
Amplifying Voices Award
Best Community Campaign
David & Goliath
Young Person's Award
Outstanding Leadership Award
Long-term Achievement Award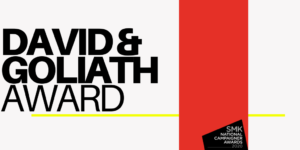 JRRT sponsorship
JRRT is proud to sponsor the David & Goliath Award, which "celebrates individuals or small campaign groups that take on much bigger organisations and challenge vested power."
Nominations close at midday on Friday 3 April 2020.
The award ceremony, which will also celebrate the 15th anniversary of The Sheila McKechnie Foundation, will take place on Wednesday 2 September at London's Union Chapel .