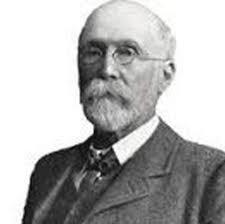 Our roots lie in the vision of Joseph Rowntree, the philanthropist, Quaker, Liberal and successful businessman, and his commitment to tackle the underlying causes of many social, economic and political ills.
In 1904, aged 68, Joseph Rowntree established three organisations each with its own distinct purpose: the Joseph Rowntree Charitable Trust, the Village Trust (now the Joseph Rowntree Foundation) and the Joseph Rowntree Social Services Trust Ltd (JRSST) which, in 1990, became The Joseph Rowntree Reform Trust Ltd (JRRT).
Joseph Rowntree's vision
Joseph Rowntree set out his vision for the trusts in a founding memorandum. Shares in his chocolate making company, from which he generated his wealth, were bestowed on each organisation. To this day, the three are distinct, legally separate entities each with its own board of trustees or directors.
From the outset, what distinguished JRSST was its structure: as a limited company it could give funds to overtly political causes, not bound by charity regulations, a situation that maintains today.
Joseph Rowntree gave his original directors, many of them family members, wide powers and few directions. Over the years, the 1904 founding memorandum has served as a source of inspiration and guidance to the Trust Directors. Today, none of the Directors are members of the Rowntree family but the links with Quakerism, liberalism and progressive politics continue.
Evolution of JRRT
The Joseph Rowntree Reform Trust (JRRT) itself has evolved and adjusted its focus in line with contemporary preoccupations. In the 20th century, it contributed to the climate of opinion that led to the formation of the Welfare State. It was instrumental in the establishment of the University of York. It also supported the rise of pressure groups from  Amnesty International to the Child Poverty Action Group.
The commitment to political reform has been part of the DNA of the JRRT from the outset. Today it is in the fields of democratic and political reform in the UK that JRRT seeks to make a difference. Joseph Rowntree's interest in 'maintaining the purity of elections'  has translated into support for far-reaching constitutional reform. His warnings about the power of 'unscrupulous wealth which influences public opinion largely through the press' are alive today in the Trust's work on social media disinformation in elections.
Further reading
There are a number of booklets about the history of the Joseph Rowntree Reform Trust.
The Rowntree Society also compiles information about the history of the Rowntree family, their enterprises and legacies.
Relevant publications and articles:

Trusting in Change: A Story of Reform

The Joseph Rowntree Inheritance: 1904-2004
The Joseph Rowntree Reform Trust Dictionary of Liberal Thought
Social Reformers and Liberals: the Rowntrees and their Legacy Journal of Liberal History