The UK Democracy Fund is a pooled Fund set up by the Joseph Rowntree Reform Trust. Independent and non-partisan, we help to build a healthy democracy: one in which everyone can participate and where political power is shared fairly.
Upcoming and recent work
Supporting the extension of the franchise in Wales
The May 2021 elections to the Welsh Senedd government were unique. Tens of thousands of 16 and 17 year olds were able to vote for the first time, joining their peers in Scotland in participating in the democratic process.
The UK Democracy Fund welcomes the extension of the franchise in Wales, and is pleased to announce a set of grants awarded to groups seeking to engage newly enfranchised voters in the election:
Boys' and Girls' Clubs of Wales – Raise Your Voice / Coda dy Lais to engage newly enfranchised 16 and 17 year olds in Senedd elections in May 2021, through a programme of education built around an e-learning module and youth hustings.
Citizens UK – Community Organising 16-18s to Register to Vote (Wales) to run a voter registration drive in colleges and sixth forms in Wales.
Ethnic Youth Support Team – Make Your Mark 2021 (BAME Youth Vote Project) to run an engagement programme to ensure BAME young people (aged 16-25) are registered and turnout to vote in the upcoming Welsh parliament elections.
Urdd Gobaith Cymru – Pleidlais / Vote to inform 10,000 young people about how to vote, and encourage 6,000 to register to vote using their network of youth and community officers in every Local Authority in Wales and to run a social media campaign with youth-created content.
The UK Democracy Fund is also supporting research on 'what works' in boosting participation rates amongst young people by funding a network of academics, led by Dr Christine Huebner at Nottingham Trent University. Their research seeks to test and demonstrate the impact of different interventions to engage newly enfranchised young people in Wales.
More information about the Fund's supported work in Wales can be found here.
Is it time for Automatic Voter Registration in the UK?
The UK Democracy Fund launched research commissioned Toby James and Paul Bernal of the University of East Anglia in April 2020.
Millions are missing from the electoral registers – the Electoral Commission estimated in September 2019 that some 17% of eligible voters in Great Britain were not correctly registered.
Cross party support is building with backing from the Political and Constitutional Reform Committee in its 2014 report on voter engagement and the APPG on Democratic Participation report in 2019.
Is automatic voter registration (AVR) the solution? The research report sets out the array of measures, such as automatic voter registration and assisted voter registration that could be adopted.  It considers the impacts on privacy, data protection, consent and security.
About the UK Democracy Fund
Our focus is on voting, and we have three broad goals:
Enabling everyone to vote. We will support reforms to ensure a simple, seamless and accessible voting system fit for the 21st Century.
Restoring and extending the franchise. Advocacy in support of expanding the franchise for 16- and 17-year olds and securing voting rights for European citizens.
Increasing participation of everyone in our elections. Efforts to raise the turnout of low propensity voters to improve fairness in our democracy.
In 2019, the Electoral Commission revealed that up to 9.4 million people in Great Britain were missing from electoral registers. This number has been steadily growing.
These people are of course not evenly spread across the population. They are predominantly young, from ethnic minorities, people born overseas, or people who rent or live more precariously.
Despite rises in voting levels and a record levels of registrations, ahead of the snap general election in 2019 the Electoral Commission warned that one in three young people and one in four black and Asian people were not registered to vote.
Trust and belief in the efficacy of the political system are already falling. This gap undermines the legitimacy of elections and how responsive Government is to the concerns of those who don't vote.
This makes our democracy profoundly unfair
The UK Democracy Fund is working so that everyone can participate in our elections and share political power fairly [Theory of Change]. The practical process of registering and voting plays an important and often decisive role in whether millions of voters participate in elections.
The Fund will support campaigning for reforms of the registration and voting system, targeted approaches to engage people from low voting groups as well as research and evaluation to build a 'what works' evidence base.
We recognise that there are others working to improve the health of our democracy, and aim to contribute to an ecosystem of donors, activists and others keen to engage everyone in the voting system.
If you would like to support the work of the UK Democracy Fund, please contact: DemocracyFund@jrrt.org.uk
How does the UK Democracy Fund operate?
The Fund is a pooled fund set up within the Joseph Rowntree Reform Trust (JRRT) and operated and managed by JRRT.
JRRT directors make decisions on which applications contribute most effectively to the Fund's desired outcomes.
The Fund operates on an independent and strictly non-partisan basis.
The Fund does not seek to influence the outcome of an election. It is committed to maintaining the integrity of the electoral process and will obviate the risk of any of its activities unintentionally threatening this principle.
The Fund only accepts applications that contribute to achieving its priorities.
Applications to the UK Democracy Fund follow a similar process to applications made to JRRT, and should be submitted to the deadlines listed here: Important dates
The Fund is open to contributions from a range of sources, charitable and non-charitable. JRRT ensures that charitable funds are used for charitable purposes, and that all funds are allocated in line with electoral law.
An advisory group has been set up to invite insights, information and ideas that support the work of the Fund.
Grants Awarded by the UK Democracy Fund
All grants made by the Fund are listed on our Grants awarded page. Some examples are also included below:
The Politics Project
To develop and maintain an election resources platform for educators; train and support teachers to engage their students in elections; and build and maintain a schools' support network.
Amount: £93,240
Theme: Increasing participation of everyone in our elections
Date: 2020
Website: thepoliticsproject.org.uk
Scottish Refugee Council
Campaign to ensure that all refugees are registered to vote and encouraged to participate in Scottish Parliamentary elections in May 2021.
Amount: £38,884
Theme: Increasing participation of everyone in our elections
Date: 2020
Website: scottishrefugeecouncil.org.uk
ACORN
Campaign to engage renters and the vulnerably housed in democratic processes, specifically Mayoral elections in May 2021.
Amount: £35,000
Theme: Increasing participation of everyone in our elections
Date: 2020
Website: acorntheunion.org.uk
Campaign to increase youth participation in elections by targeting universities and by digital advertising and brand partnerships.
Amount: £70,000
Theme: Increasing participation of everyone in our elections
Date: 2019
Website: www.vfyf.co.uk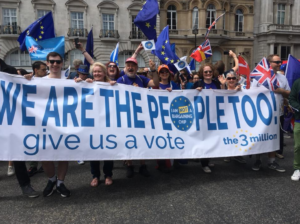 the3million
Campaign to protect and extend EU citizens' voting rights in the UK.
Amount: £58,000
Theme: Restoring and extending the franchise
Date: 2019
Website: www.the3million.org.uk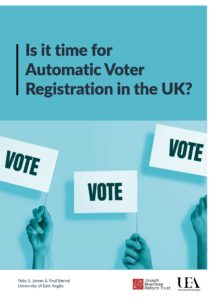 Dr Toby S James and Dr Paul Bernal, UEA Consulting Ltd (project funding) 
Research on automatic electoral registration – to understand the potential trade-offs and choices available to policy makers, identify safeguards that could address concerns and examine how the UK could introduce various forms of facilitated, automated or fully automatic registration.
Amount: £9,490
Theme: Enabling everyone to vote
Contributors to the UK Democracy Fund
The following are contributors to the UK Democracy Fund: Andrew Wainwright Reform Trust (Company No. 2608087); Barrow Cadbury Trust Ltd (Registered Charity:1115476.); Betterworld Ltd (Company No. 03408967); Joseph Rowntree Charitable Trust (Registered Charity: 210037); Scurrah Wainwright Charity (Registered charity:1002755); The Tinsley Charitable Trust (Registered Charity: 1020294); Unbound Philanthropy and the Family Office (Company No. OC384120).
JRRT contributes directly to the Fund and additionally provides the grant management, office and finance support.